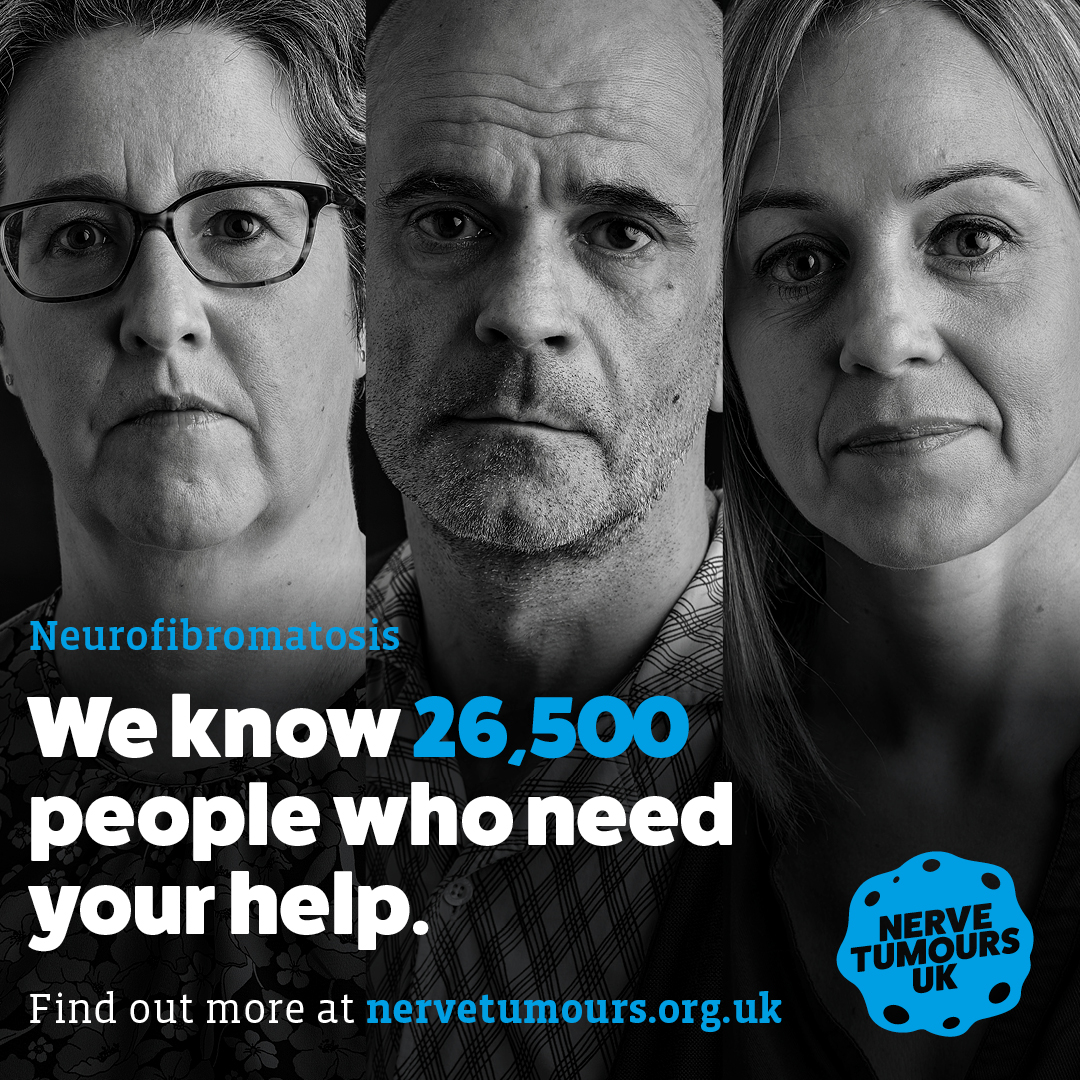 We know 26, 500 people who need your help
The Neurofibromatosis Association – trading as Nerve Tumours UK– supports those who have been diagnosed with Neurofibromatosis (NF), together with their carers, families, and wider support network. Forty years on, as the leading voice for people living with Neurofibromatosis Type 1, Type 2 and Schwannomatosis in the UK, we are committed to raising awareness, providing support and making their every day better.
Neurofibromatosis - the umbrella term for a group of genetic conditions (Neurofibromatosis Type 1 (NF1), Neurofibromatosis Type 2 (NF2) and Schwannomatosis) and literally translating to mean "Nerve Tumour Increase" - is one of the most common neuro-genetic conditions, causing tumours to grow on nerve endings. It has many associated medical, physical, and psychological conditions: 60% of those affected have learning disabilities, and up to 75% are registered as disabled. People with NF live in constant pain, can be vulnerable and are often isolated.
More people are diagnosed with NF than those with Hereditary Muscular Dystrophy, Huntington's Disease and Cystic Fibrosis combined, yet few - including many medical professionals - have heard of the condition.
Nerve Tumours UK provides support and advice for people with NF, and the medical professionals involved in their care, through a Specialist Support Network - regional nurses and advisors, a national helpline, a fully accessible website, regional information days, medical guidelines and much more. There are more than 26,500 people in the UK who have Neurofibromatosis – and yet we only have a frontline team of 12 specialists. We need to provide more support in all areas of the UK,
" Not only do we need to raise the profile of Neurofibromatosis amongst medical professionals, but we also need to let the public know that we are here to help, and about the support services that we can offer for both children and adults, who are diagnosed with the condition."
– Karen Cockburn, Charity Director
To find out more, go to nervetumours.org.uk to call our helpline Monday and Wednesday 9am to 5pm on 0793904630