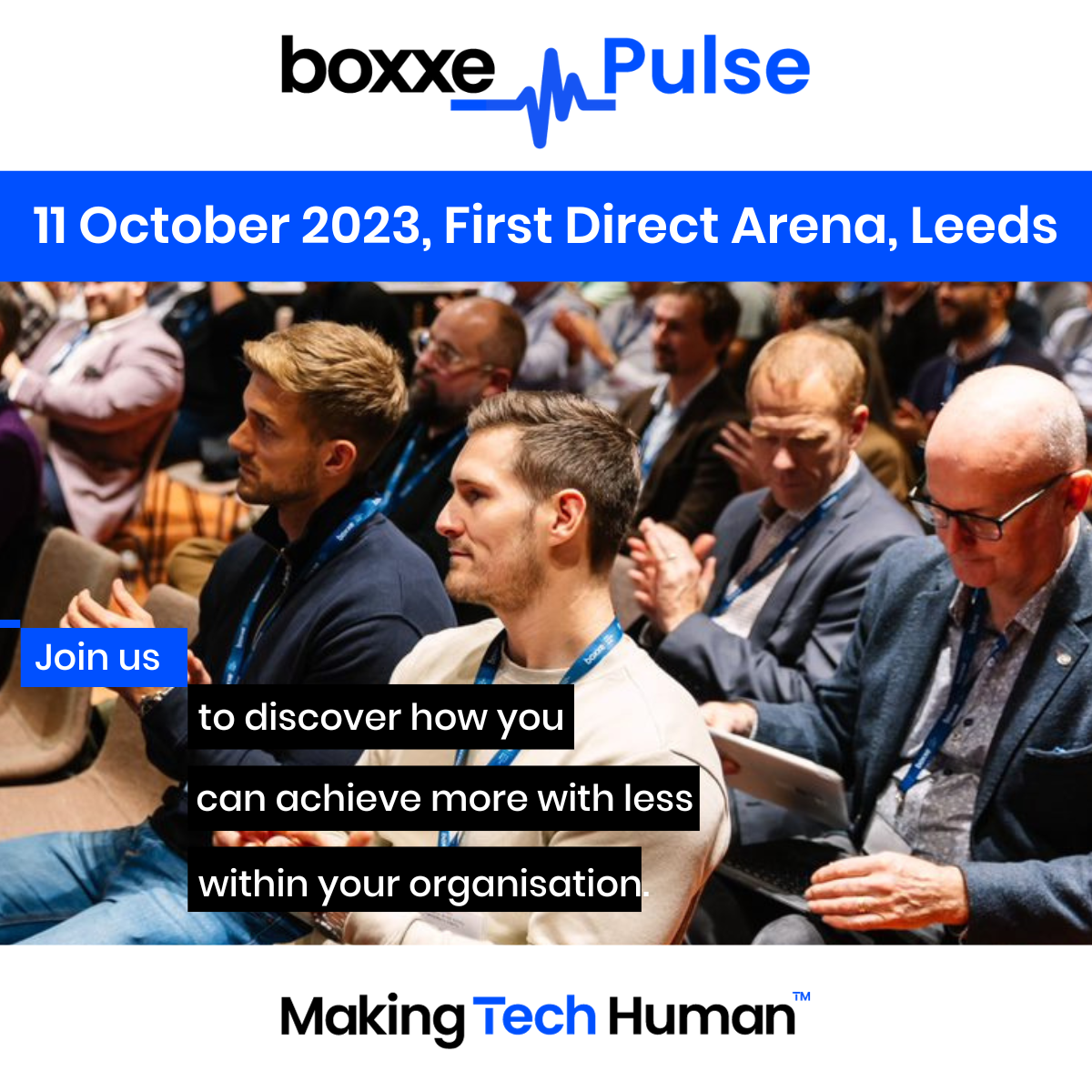 We are thrilled to invite you to boxxe Pulse, our flagship event, taking place on Wednesday, 11th October at the First Direct Arena Leeds.
Virtually everyone, everywhere is being given the challenge to do more with less – whether that's at work or home – and we expect this to be an ongoing mantra for the future.
It isn't about just doing more, or working longer, faster or harder. It's about working smarter!
Whether you're interested in emerging technologies, data analytics, cybersecurity, cloud solutions, or any other aspect of the tech world, boxxe Pulse will provide you with access to the best and brightest minds in the industry. Forge connections, gain unique perspectives, and immerse yourself in the latest trends and innovations that are shaping the future of technology.
Don't miss this exclusive chance to network with world-leading technology specialists, engage with tech gurus, discover the latest developments in the tech industry and stay ahead of the curve in the ever-evolving tech landscape to drive your success in the digital age.
This year, we have a special customer presentation from Protas that showcases their incredible journey towards achieving accreditation by embedding strict security policies through tech and SAAS. Protas, one of our valued partners, will take to the stage to share their inspiring story of how we collaborated to bolster their security infrastructure and achieve prestigious accreditations. We provided Protas with cutting-edge solutions that enhanced their security posture, enabling them to thrive as trusted partners to pharmaceutical and national healthcare organisations.
Why boxxe Pulse is a must attend
Hear from industry experts including boxxe's CEO, Phil Doye
Preet Chandi, aka Polar Preet, where she will share stories on her world record breaking solo expedition to the South Pole – and discuss topics on breaking boundaries, planning and goal setting, resilience, motivation and how anything is possible!
Learn how you can become more productive with the tools you already have
Meet with key vendors including Dell Technologies, Microsoft, Cisco, VMware and more.
Expert speakers covering topics including current market trends, data consolidation and rationalisation, virtualisation, sustainability and efficiency
Engage in a fireside chat around using technology to help you become more sustainable
Secure your place today https://boxxe.com/news-and-resources/news/boxxe-pulse-event-october-2023