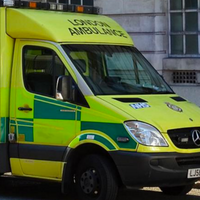 Keeping London Safe
The moment COVID-19 hit the UK, London Ambulance Service NHS Trust (LAS) had a duty to protect the people of London from being harmed by the virus and ensure their staff were equipped for the job.
The Issue
London Ambulance Service (LAS) provides front line services to more than 8 million people. Their operational workload had increased massively and there was a rise in the equipment and supplies needed for ambulance staff to carry out their duties. When LAS contacted us during the pandemic, there was no question about us helping them regain control of their operation. They needed a solution to ensure PPE was getting where it needed to be, on time and in the correct quantities, so they could continue providing their best service.
We had the experience of working with the NHS through our customer, West Midlands Ambulance University NHS Trust, so we were confident with our knowledge to help. Our mission was to create a solution encompassing stock control, warehouse management and handheld scanners to manage the receipt, storage and distribution of PPE in their new warehouse. We knew there was a lack of staff resources to set up and deliver the solution due to workers being on the front line of COVID-19. The new warehouse was empty and contained no internet or network.
Implementation
We knew what LAS required from OrderWise. They needed a turnkey solution so it could be implemented immediately with minimal input from staff.
We equipped the warehouse with a physical server, network and internet, including Wi-Fi. The OrderWise software was installed and configured using PPE stock information, including locations for the stock to be distributed to. We then set up the physical operation through on-site training with the staff and established a training team within the workforce so they could continue to provide support once we left.
This was then rolled out to each LAS 'Hub', which is where the crew replenish the stock in their ambulance. It was important for each Hub to have full receipt of stock using handheld scanners to book PPE in and out, so we ensured it was installed in key locations.
Result
Within 36 hours of arriving in London, the OrderWise team had transformed an empty warehouse into a fully-functioning distribution centre with equipped LAS Hubs. It was a pleasure to provide LAS with a robust solution that will allow them to continue their outstanding work in London.
Project timeline
Wednesday 18th March
LAS contacts OrderWise urgently requesting logistics assistance with the distribution of personal protection equipment (PPE) supplies.
Thursday 19th March
OrderWise and LAS confirm necessary objectives and timescales via conference call.
Friday 20th March
OrderWise provides a comprehensive plan for efficient PPE distribution, which LAS accepts
Saturday 21-22nd March
The OrderWise team gather the necessary physical resources and configure the required software in preparation for the journey to London.
Monday 23rd March
The UK government initiates its lockdown. The OrderWise team travels to the LAS warehouse. The new software system was operational within six hours.
Tuesday 24th March
After training 62 LAS staff members, the solution developed by OrderWise was then deployed into five further LAS hub warehouses.
Tuesday 24th March
Twelve weeks after the solution's deployment, the one-millionth box of PPE was delivered, at an average speed of over 490 boxes per hour.